VIRTUAL IC/BPS Support Group with Barb Zarnikow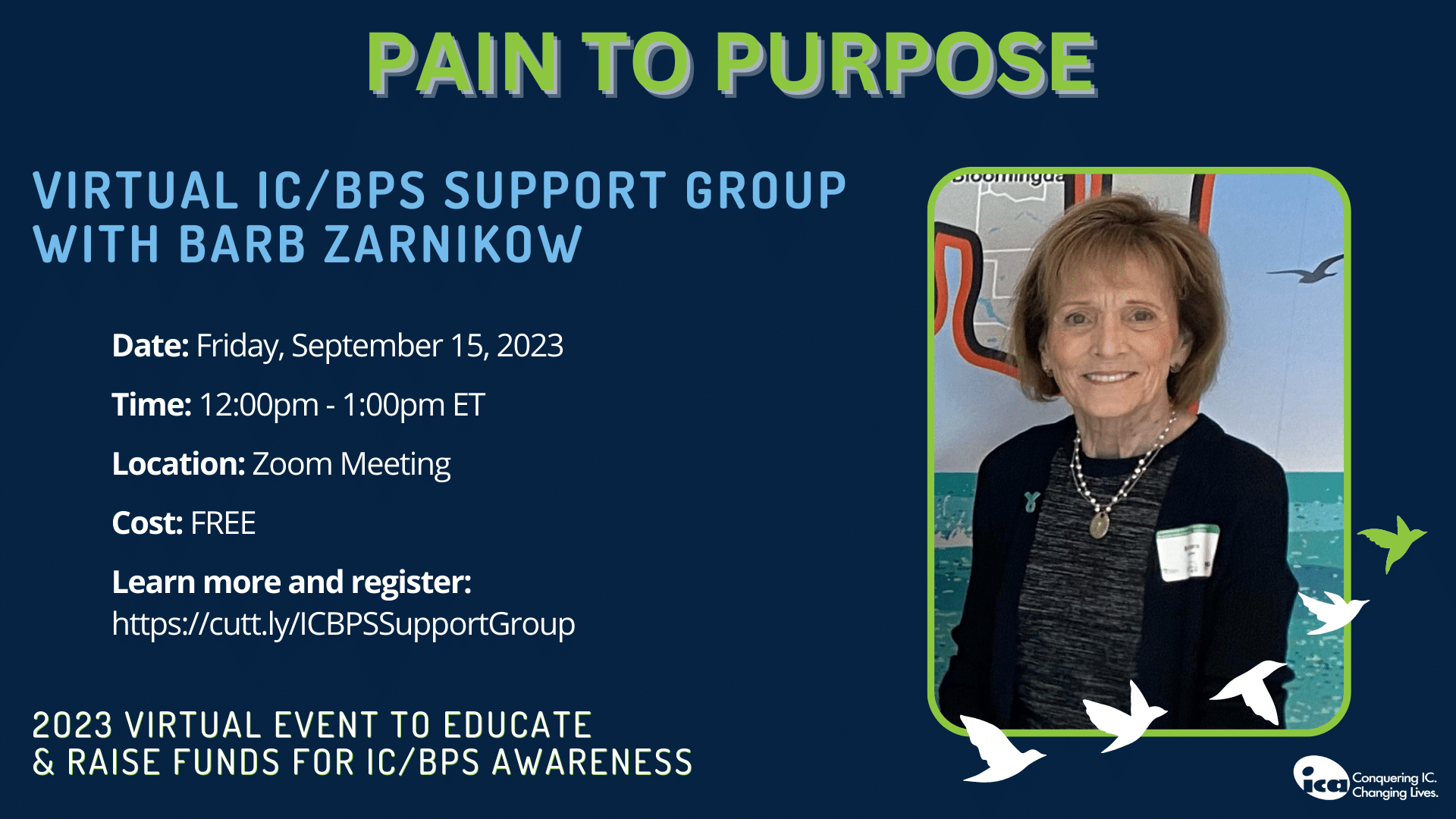 Are you tired of struggling with the challenges of IC/BPS alone? Do you long for a supportive community that understands your journey? Look no further! Our event is designed to provide you with the tools, knowledge, and support you need to conquer IC/BPS and live a vibrant, fulfilling life.
Join the ICA and ICA past Board Co-Chair, Barb Zarnikow for an immersive and engaging VIRTUAL IC/BPS Support Group. As a highlight of our IC Awareness Month, our dedicated volunteer, Barb, will lead our registered participants in an hour long discussion on topics that are important to you, the IC/BPS patient.
During this empowering gathering, you will have the opportunity to:
Connect with Others: Meet fellow IC/BPS warriors who understand your struggles and can offer invaluable support and encouragement.
Share Your Story: Open up about your journey with IC/BPS and discover the healing power of sharing. Our safe and welcoming environment will provide you with the chance to express your experiences, challenges, and triumphs.
Feel Empowered: Leave the event feeling empowered and inspired to take control of your IC/BPS journey. Our goal is to equip you with the knowledge, support, and motivation.
We believe that no one should face IC/BPS alone, which is why we are extending this special invitation to you. Register today and connect with others who are walking in your shoes.
Together, we can make a difference!
Date: Friday, September 15, 2023
Time: 12:00pm – 1:00pm ET
Location: Zoom Meeting
Cost: FREE
Register for the ICA's Pain to Purpose Event to attend.