A Symposium on Multidisciplinary Approaches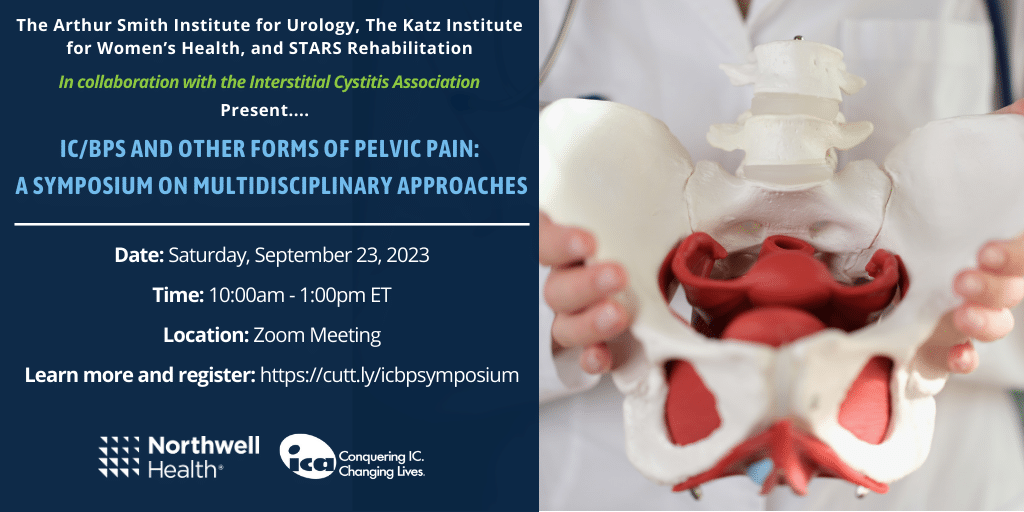 IC/BPS AND OTHER FORMS OF PELVIC PAIN: A Symposium on Multidisciplinary Approaches
Chronic pelvic pain that may include conditions such as interstitial cystitis/bladder pain syndrome, prostatitis, pelvic floor muscle spasm, and male and female sexual pain affects an estimated 20 million men and women in the United States. Many of these conditions are difficult to diagnose and treat. Afflicted patients often move from clinician to clinician, sometimes over the course of years, due to difficulties encountered in making a diagnosis and/or suboptimal results from treatments.
This is a FREE 3 hour long patient oriented symposium dedicated to PELVIC PAIN PATIENTS AND THOSE WHO LOVE THEM.
Nationally and internationally known experts in the field of pelvic pain from the Northwell Healthcare System will be presenting a wide range of topics about pelvic pain from causes to new approaches to management. We have incorporated time into the program for an extensive question and answer session.
Date: Saturday, September 23rd, 2023
Time: 10 AM-1 PM (EST)
Cost: FREE
Location: Your Computer, smart phone, or Tablet
Speakers
Joel N.H. Stern, PhD
Professor of Neurology, Surgery, and Molecular Medicine
Office of Medical Student Research
Zucker School of Medicine at Hofstra/Northwell
Associate Professor of Neurology, Lenox Hill Hospital
Northwell Health
Bella Grossman, PhD
Clinical Psychologist
Katz Institute for Women's Health
Assistant Professor
Zucker School of Medicine at Hofstra/Northwell
Supervisor, Behavioral Health
Northwell Health, Psychiatry
Jennifer Fariello-Moldwin, MSN, MEd, WHNP-BC
Female Urogenital and Sexual Medicine
Division of UroGynecology
Northwell Health
Marina Ruzimovsky, NP-C
Pelvic Pain Specialist
Pelvic Pain Treatment Center
The Arthur Smith Institute for Urology
Northwell Health
Robert Moldwin, MD
Professor of Urology
Zucker School of Medicine at Hofstra-Northwell
Director, Pelvic Pain Treatment Center
The Arthur Smith Institute for Urology
Northwell Health
Adi Katz, MD
Associate Professor
Zucker School of Medicine at Hofstra-Northwell
Director, Minimally Invasive Gynecology, Lenox Hill Hospital
Department of Ob/GYN
Northwell Health
Mary Hughes-Johnson, PT, DPT, PRPC
Board Certified Clinical Specialist in Women's Health Physical Therapy
Academy of Pelvic Health Physical Therapy
APTA APHPT CAPP-Pelvic Certified Physical Therapist