Recording Available for Symposium on Multidisciplinary Approaches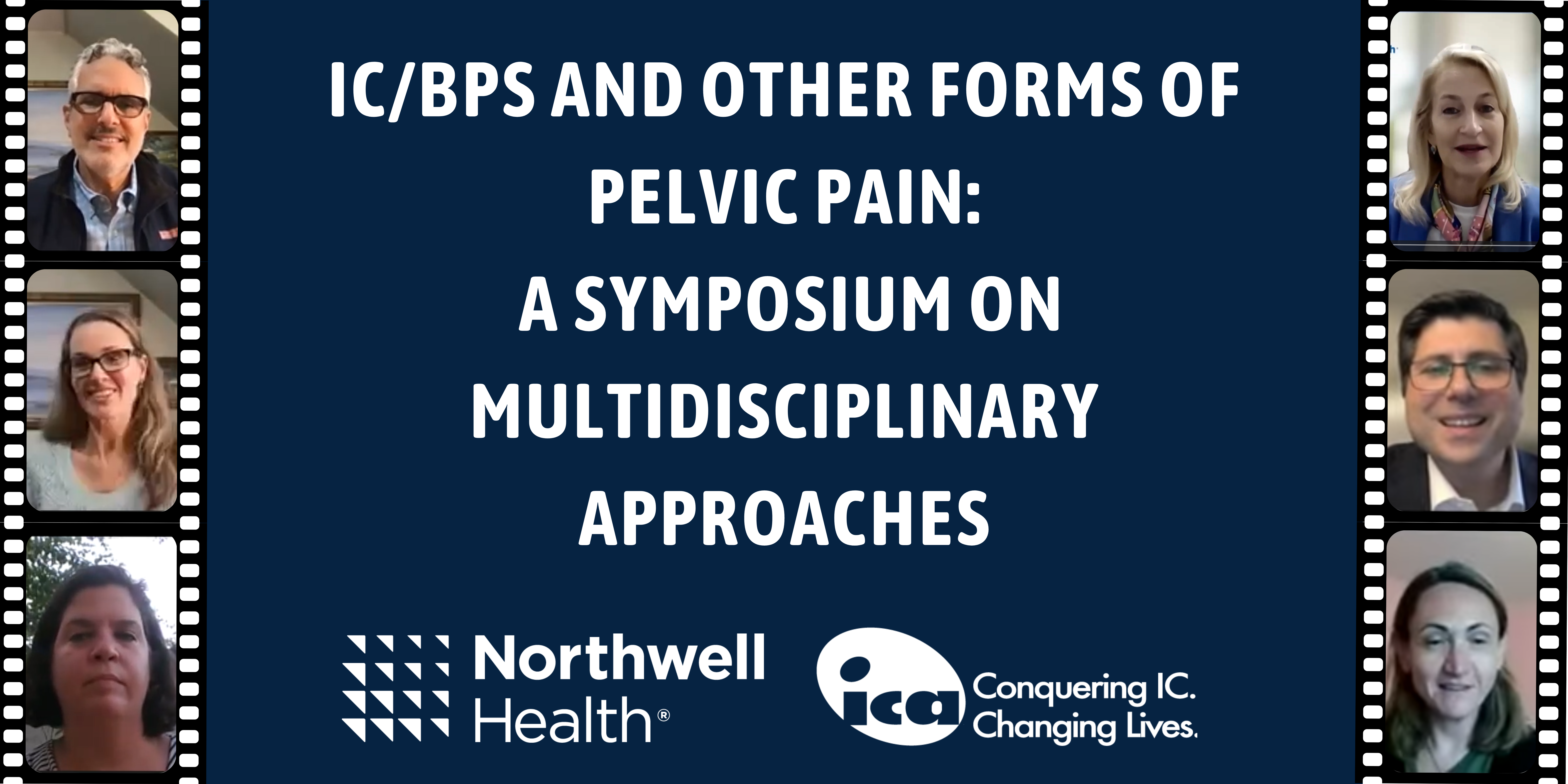 As part of our IC Awareness Month activities, ICA hosted a groundbreaking symposium titled "IC/BPS and Other Forms of Pelvic Pain: A Symposium on Multidisciplinary Approaches" on Saturday, September 23, 2023. The symposium aimed to address the challenges and provide new insights into the diagnosis and treatment of chronic pelvic pain conditions, such as interstitial cystitis/bladder pain syndrome, prostatitis, pelvic floor muscle spasm, and male and female sexual pain.
The symposium, held virtually, was a three-hour-long event dedicated to pelvic pain patients and their loved ones. The event was free of charge, ensuring accessibility to all who wanted to attend and learn from national and international experts in the field of pelvic pain from the renowned Northwell Healthcare System.
Prominent healthcare professionals presented a wide range of topics related to pelvic pain, including its causes and new approaches to management. Attendees had the unique opportunity to interact directly with the experts during an extensive question and answer session, allowing for a truly patient-oriented experience.
The ICA would like to thank the experts from The Arthur Smith Institute for Urology, The Katz Institute for Women's Health, and STARS Rehabilitation of the Northwell Healthcare System for sharing their expertise.
The symposium provided an invaluable platform for patients, their loved ones, and healthcare professionals to come together and explore different aspects of pelvic pain. It offered hope and support to those who have been suffering for years without a proper diagnosis or effective treatment.
If you found this Symposium to be of value, please donate to this month's "Pain to Purpose" event! Your support allows us to continue to bring you amazing programs like this. Go to the ICA's website at www.ichelp.org to learn more about how you can support the ICA during IC Awareness Month and beyond.
Distinguished speakers included:
Joel N.H. Stern, PhD
Professor of Neurology, Surgery, and Molecular Medicine
Office of Medical Student Research
Zucker School of Medicine at Hofstra/Northwell
Associate Professor of Neurology, Lenox Hill Hospital
Northwell Health
Bella Grossman, PhD
Clinical Psychologist
Katz Institute for Women's Health
Assistant Professor
Zucker School of Medicine at Hofstra/Northwell
Supervisor, Behavioral Health
Northwell Health, Psychiatry
Jennifer Fariello-Moldwin, MSN, MEd, WHNP-BC
Female Urogenital and Sexual Medicine
Division of UroGynecology
Northwell Health
Marina Ruzimovsky, NP-C
Pelvic Pain Specialist
Pelvic Pain Treatment Center
The Arthur Smith Institute for Urology
Northwell Health
Robert Moldwin, MD
Professor of Urology
Zucker School of Medicine at Hofstra-Northwell
Director, Pelvic Pain Treatment Center
The Arthur Smith Institute for Urology
Northwell Health
Adi Katz, MD
Associate Professor
Zucker School of Medicine at Hofstra-Northwell
Director, Minimally Invasive Gynecology, Lenox Hill Hospital
Department of Ob/GYN
Northwell Health
Mary Hughes-Johnson, PT, DPT, PRPC
Board Certified Clinical Specialist in Women's Health Physical Therapy
Academy of Pelvic Health Physical Therapy
APTA APHPT CAPP-Pelvic Certified Physical Therapist