A Successful Event for a Worthy Cause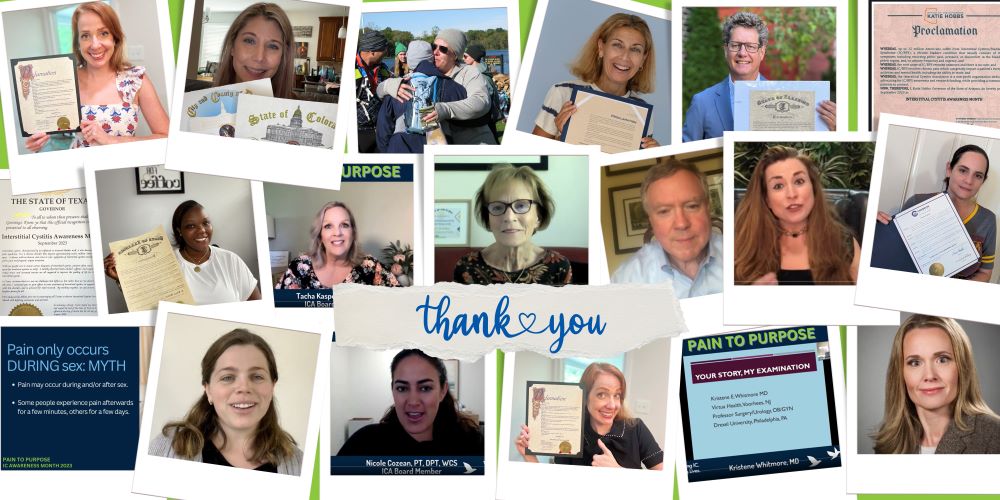 The ICA's Efforts to Help Those Living with IC/BPS
This year, the ICA hosted a highly successful educational and fundraising event with the aim of raising awareness about IC/BPS and providing much-needed support for individuals living with this condition and their communities. We are delighted to share that our focused week of content managed to reach an audience that was actively seeking information and support. Some highlights from the event include:
Comprehensive Information for Care Partners presented by Eric Zarnikow and Kristi Ninnemann.
Valuable insights on how to obtain IC Awareness Month proclamations in your state delivered by Theda Khrestin.
An insightful video titled "Handling the Emotional and Mental Impacts of IC/BPS" presented by Tacha Kasper, MA, LMFT.
An inspiring video on the topic of Men & IC/BPS, featuring Samantha Ginsburg, PT, DPT.
An informative video titled "The Pelvic Floor Connection" presented by Nicole Cozean, PT, DPT, WCS, CSCS.
A compelling presentation, "Your Story, My Examination," delivered by the esteemed Kristene Whitmore, MD.
Eye-opening discussions on the topic of IC/BPS & Intimacy, featuring Jennifer Fariello Moldwin, MSN, MEd, WHNP-BC and Heather Florio, CEO of Desert Harvest.
Overall, this event provided a comprehensive platform to educate and empower both individuals living with IC/BPS and their support networks. Together, we are making progress in fostering a community that is well-informed and supported.