STEPPING UP WITH LAURA FROM A TEAM MEMBER'S PERSPECTIVE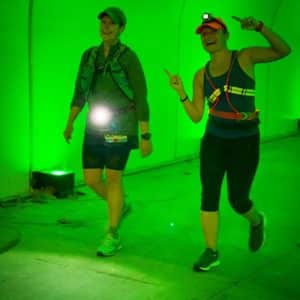 I had a life-changing experience.
I serve as the ICA's Director of Giving and we have been following the journey of our dedicated Board Member, Dr. Laura Santurri on her 100-Mile Ultra training and "ICA Your Way" fundraising adventure ~ and it has been nothing short of awesome.
Each week, Laura shared thoughtful and personal posts about IC/BPS, ultra-running and her ICA fundraising experiences. (If you missed them, I encourage you to go back and watch/read them ~ you'll feel both motivated and inspired!) You'll see how Laura uses what she learned from ultra-running and ties it into the management of her IC/BPS. As a leader and Board Member, a person living with IC/BPS and an athlete, she generously shares her personal story, while simultaneously highlighting the ICA's programs and offerings (and how they helped her) through her incredible endeavor.
Back to the life-changing part.
My husband and I drove to Akron, OH last Friday to be part of Laura's epic weekend. (Side note: When I first met Laura, we discovered we both shared an immense love for distance-running and instantly bonded. That's when she invited me to be a pacer for her race.)
If you don't know what a pacer is, it is simply a person who runs alongside the ultra-runner to "pace" and motivate them when things get tough. Or as I like to describe it, being a personal cheerleader.
By the way, did you know that an Ultra 100-Miler means moving your body forward for 100 miles? In a row? With a 30-hour time limit? During the light of day and darkness of night? Rain or shine? Pain or no-pain? While planning bathroom visits? And what food and drink you are going to consume along the way? Blisters or no blisters? With a whole team of people to take care of you during planned breaks to help you out like a pit crew does a race car. Except you're not a race car, you're a race human.
I know, I'm still processing it, too, so I am going to share some of the highlights I experienced:
I'm now fluent in ALL THINGS ULTRA by getting out there and learning from the best!
Except for catnaps, there was no sleeping for about 32 hours.
190 runners started the race. 128 runners finished. 35 of them were female. Laura was one of them.
Laura started running at 5 am. And she wasn't allowed to have pacers until after mile 46.9. And it was unseasonably hot!
I ran two legs of the race with her ~ 13.5 miles starting at 6:42 PM for 3:34:08 & 11.42 miles starting at 1:52 AM for 3:25:23 in almost all complete darkness (except for a few minutes of the sun setting when I started!)
Laura shared parts of her IC/BPS journey including surgeries, how she manages her pain and how she found running to ultimately help alleviate her discomfort. Things start to get real when it's just the two of you out on the open trail together.
The Ohio & Erie Canal Towpath is way gorgeous (even in the nighttime!)
My second leg started at 1:52 AM finished around 5:17 AM. As soon as I handed Laura off to her brother (her next pacer), my hubs picked me up and I fell right asleep as soon as my head hit the headrest in the car (while heading straight to the finish to cheer her in!) I needed a snooze and I needed it badly! (I actually thought I was sleep running at one point!)
Sometimes the beeping of the interval timer along with the sound of our feet in cadence hitting the ground at the same time crunching the fall leaves was all we needed to keep us going. Other times, it was a playlist of Eye of the Tiger, the Rocky theme song and Lionel Richie's All Night Long (because we were running all night long, get it?!?)
Would you believe that when I finished my two running sections with Laura, she told me to make sure I went back to the hotel, got some rest, ate some food and to take care of myself? She was worried about ME when SHE was the one participating in the race (can you see what kind of person I'm dealing with here now?!?) She's not your average bear.
The aid stations rocked! They have different themes! And I got to eat grilled cheese and PB&J in the dead of night! Laura had all her food pre-bought, pre-made and chilled in a cooler waiting for her. She knows what works with her body. And she also planned out her medicine stops.
Food is a big topic of conversation when you're running that long. Laura and I talked A LOT about our love of food. (Dole whip, anyone?!?)
We met Laura throughout the race to cheer her on. The community of people out there on the course is just as incredible as the people running it. They embody a different kind of endurance! It takes a lot of energy to be out there. And they get very protective of their runners!
Her crew (family and friends) are some of THE MOST INCREDIBLE PEOPLE I've ever had the pleasure of meeting. Not ONE complaint about crewing in the darkness, finding their way to different cheer sections or going on a food run. And she pretty much has the bestest best friend in the whole entire world (shout-out to Kristi!)
I've never experienced a 100-mile foot race finish. The tears were flowing for sure when she crossed the finish line. I felt so proud of her.
OH, and one other small, tiny detail. Laura SMASHED her previous 100-Miler time by close to 3 HOURS!
Laura became friends with other runners during the race. At the finish line, even though she was tired and feeling all the feels of a person who just finished 100-miles, she waited for two of them to run through to cheer them in and give them a hug to show her support!
Ultra-running is epic. And so is Laura (#shero)! While I run distance, and have run over-night relays, I have never asked my body to do what it did this weekend, and I didn't even come close to touching the level of mileage she did! And I certainly NEVER have run continuously for over 24 hours like our rockstar Laura.
Did I mention that Laura also raised over $3,000 for the ICA?!?
If you'd like to fundraise "Your Way" for the ICA like Laura, we can provide you with everything you need to be successful ~ from sharing your message on social, providing a platform to showcase your story, tools and resources to help you reach your fundraising goal and moral support from the entire ICA team to keep you motivated! Learn more at https://runsignup.com/Race/VA/Anywhere/diyyourwayforicbps.
I'll never forget being part of Laura's race. Or being invited into her circle with open arms. Or becoming part the community she has built. I'll never forget experiencing the physical demands I felt on a much smaller scale, all while at the same time being part of something so much bigger than myself than I could have ever imagined. Laura has ruined me ~ I'll never look at a trail and not think of this epic experience ever again.