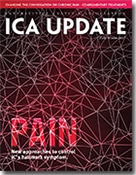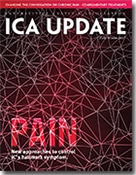 From the Fall/Winter 2015 issue of the ICA Update.
For chronic pain sufferers, support can be as close as a phone call away.
Chronic pain can be isolating, both physically and emotionally, making it difficult to reach out for help. One support group, however, requires nothing more than a telephone and a willingness to talk with others suffering from similar conditions.
"We're here to help people look at how to better develop quality in their lives," says Gwenn Herman, LCSW-C, DCSW, executive director of the Maryland-based Pain Connection. "When you have chronic pain, you pull into yourself, and it's hard to socialize. This is a first step."
Herman, who developed chronic pain and other conditions following a car accident 20 years ago, founded Pain Connection in 1999. Its telephone-based support group, Pain Connection Live, began about five years ago. Unlike support groups that focus on specific conditions like IC, Pain Connection aims to connect anyone suffering from chronic pain.
"No matter what type of disease someone has or its severity, we all go through the same psychosocial aspects—what happens in our bodies, what happens in our brains," Herman says. "We all have to learn the same skills."
Pain Connection hosts four conference calls each month—with different call times to make it easier for people in different time zones—and countries– to participate. The service is free and open to all, though participants are asked to register ahead of each call; details are available at www.painconnection.org.
Calls are moderated by professionals—Herman is a social worker, and other moderators include a nurse and a patient advocate. Each call opens with a 10 to 15 minute presentation on a theme such as family relationships, mindfulness, or setting priorities, followed by a facilitated open discussion. Every call also ends with a 15-minute exercise, such as breathing, guided visualizations, or meditation.
Pain Connection encourages family members and healthcare practitioners to participate. "The more people hear these conversations, the more they learn about what people go through," Herman says.
A key theme that transcends specific illnesses, Herman says, is acceptance. "The main thing always is to accept that because your body has changed because of the pain and the illness, you have to change with it," she explains. "It's not about living in the past or in the future, but to get your body to function as it is now and live your life."
Letting go is also crucial, according to Herman. "There's a lot of anger with the medical profession, a lot of anger at family members for not understanding what you're going through, a lot of anger at your body for failing you," she says. "When you have all that anger with you, it creates more pain, so we encourage people to let go of that."
One of the benefits of participating in the calls is the sense of acceptance, Herman says. "You're not being judged," she says. "People believe you and accept you for where you are."
"To me, it connects people with each other instead of separating them in groups," Herman adds. "When we have chronic pain, a lot of times we drop out of our social lives. It's about relearning how to live in your body."