ICA's 2022 Fall Fundraiser Step Up for IC/BPS Awareness and Educational Event was a Success!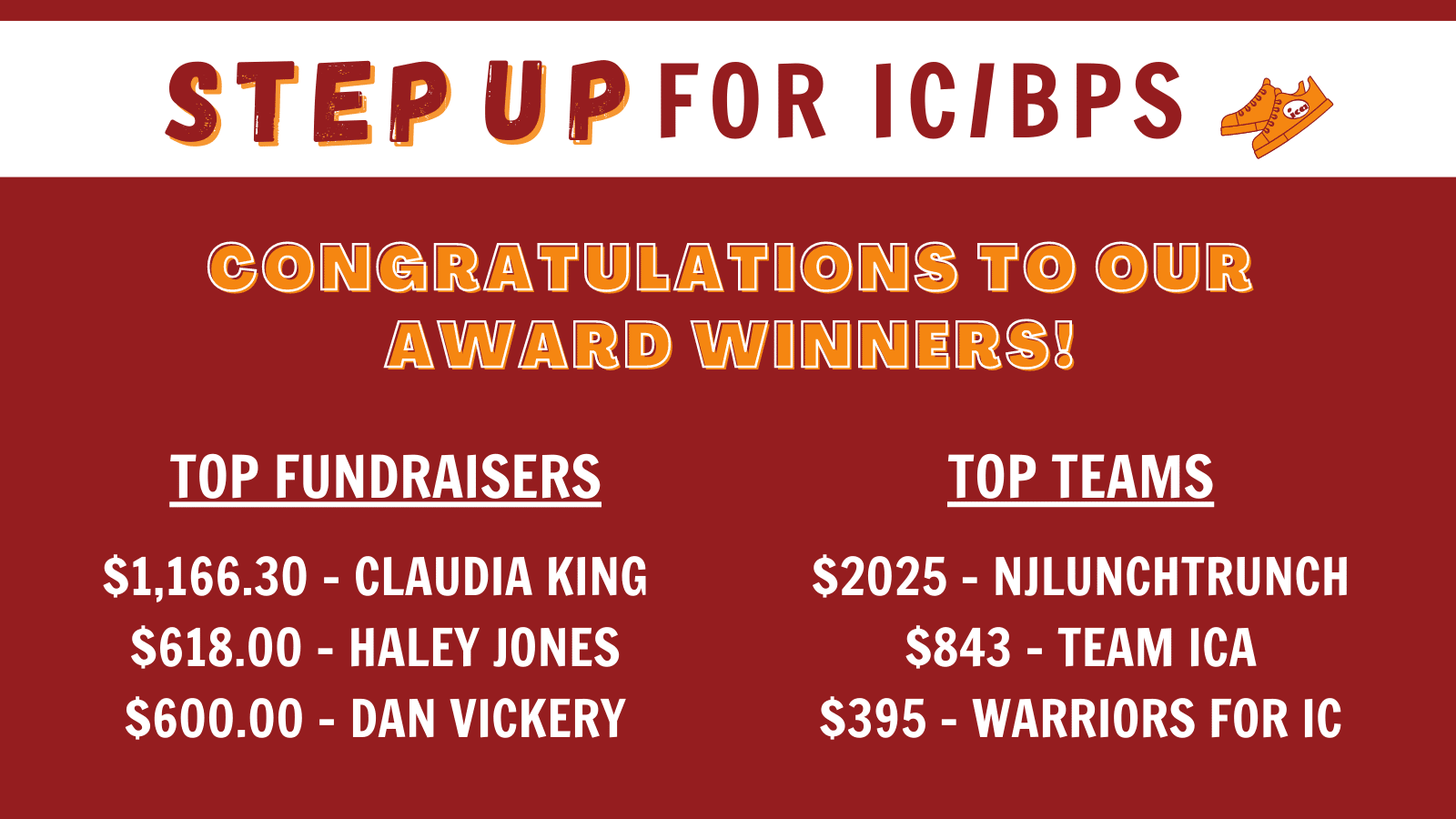 The ICA is excited to announce the success of our 2022 Virtual Fall Fundraiser – Step Up for IC/BPS Awareness and Educational event that took place online, everywhere September 19-24. A VERY special thank you to both the Toth Family and SPX Corporation for matching individual donations up to $5,000 each to triple the impact for the third consecutive year.
Over 180 participants comprised of IC/BPS patients, their families and friends, healthcare providers and volunteers joined for the event. The event raised over $21,000 for more IC/BPS awareness, better treatments, and eventual cure for IC/BPS.
We would like to extend our gratitude to the sponsors who helped make the 2022 Fall Fundraising, Awareness and Educational event a success:
Algonot CystoProtek
Desert Harvest
West Coast Mint
And the IC/BPS professionals who provided expert educational content:
Dr. Robert Moldwin – Live Q&A Expert Session
Dr. Nicole Cozean – Pelvic Floor Physical Therapy
Tacha Kasper, MA, LMFT – Handling the Emotional & Mental Impact of Living with IC/BPS
Dr. Reza Sharif and Heather Florio, Desert Harvest CEO – CBD Preclinical Study
Dr. Tony Buffington – New Science of Pain and IC
Dr. Alexandra Milspaw – Intimacy and IC
Melissa Fotinos, MS, CPC, CPMA – Understanding Healthcare Coverage
Additionally, we want to thank all our individual and team fundraisers! We were able to raise awareness for IC/BPS and the IC/BPS community with your support, dedication, and participation.
Thanks also to Desert Harvest, Algonot CystoProtek, PelvicSanity, and West Coast Mint for donating recognition awards!
We are so grateful to all the donors and sponsors who contributed funds to the program, as well as the volunteers who gave their time! It's not too late to support the 2022 Virtual Fall Fundraiser – Step Up for IC/BPS Awareness and Educational event. While we fell short of our goal, there is still time to help us reach $25K! If you found value in our offerings, please make a donation today. By doing so, you can help ensure that the ICA provides more valuable educational events in the future.
Our participants have shared their thoughts! We have received so amazing feedback from the weeklong event:
"Thanks so much! It was a wonderful event."
"Thank you for all of the great information that you put out."
"Thank you to this helpful organization, which I've been a part of for 30 years!"
Help the ICA step up by donating to the program today to bring awareness and educational events to more communities online.