ICA Shared Your Voice with the FDA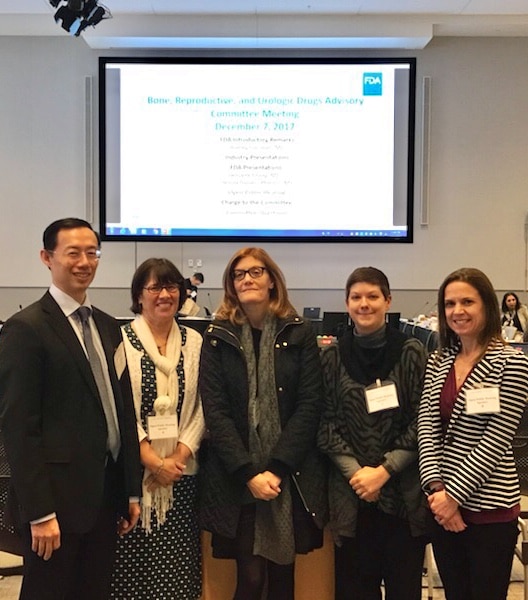 ICA staff, board members, and IC patients headed to the Washington, DC metro area to speak at the Open Public Hearing (OPH) segment of the December 7, 2017 meeting of the Bone, Reproductive and Urologic Drugs Advisory Committee at which the committee discussed appropriate patient selection criteria and clinical trial design features, including acceptable endpoints, for demonstrating clinical benefit for drugs intended to treat interstitial cystitis (IC) and bladder pain syndrome. The committee also discussed whether bladder pain syndrome and IC reflect overlapping or different populations, and whether it is appropriate to assess efficacy in the same way for both conditions. At the conclusion of the day, the committee voted unanimously to include both IC and BPS patients in the same clinical trials, which is recommended in ICA's Position Statement. The recorded audio, slides, and other meeting materials will be made available on the FDA website in January.
View the ICA's slides at https://www.ichelp.org/wp-content/uploads/2017/12/FDAslides.pdf.
YOUR VOICES ARE BEING HEARD!!! Donate now, so ICA can represent the voices of IC patients throughout the year.
In summary, we urge the FDA Advisory Committee to:
Keep a simple and broad definition of the condition, which we believe is necessary to capture and study as much as possible of this underserved population;
Consider IC and BPS as overlapping conditions that warrant similar processes for assessing treatment efficacy; and,
In the design of clinical trials, 1) to the extent possible, include equal amounts of men and women in clinical trials, 2) measure quality of life, pain, and sexual dysfunction as important indicators of the efficacy of a treatment, and 3) document adverse effects in a detailed manner and in a way that recognizes that even "mild" side effects can be significant for patients living with IC.