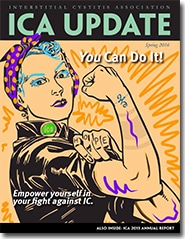 Interstitial Cystitis (IC) & Chronic Pelvic Pain News
Thanks to everyone for their very generous donations to the ICA. We are so very grateful and privileged to work on behalf of such a tremendous community. Please keep them coming and we will continue marching on…
Top IC Stories:
Hot Topics from ICA's Online Support Community
ICA's Online Support Community is a place of peace, hope, and advice providing comfort for patients, family members, friends, and healthcare professionals looking for ways to better understand the impact of IC. It provides strength in numbers for those living with IC. Below is a list of some current hot topics. Join us in the growing ICA Online Support Community, where you can be connected to hundreds of other people experiencing similar symptoms, situations, experiences, and emotions.
ICA Facebook Page "Question of the Week"
Sarah suffers from gastroparesis. Any other IC patients that share the same condition with Sarah that may be able to give her some advice or insight on living with both conditions?
Help us keep the conversation going!
ICA Healthcare Provider Registry Additions
For many people with interstitial cystitis (IC), an effective treatment plan requires a team approach, including urologists and other physicians, nurse practitioners, physical therapists, dietitians, and counselors. The ICA Healthcare Provider Registry includes clinicians who have agreed to be a referral source for IC patients. Below is a list of recent additions to the registry.
The ICA Healthcare Provider Registry does not include every healthcare provider who treats people with IC. Do you know of other healthcare providers who treat IC patients? Are you a healthcare provider that treats patients with IC and want to be included in the ICA's Healthcare Provider Registry? Email your name, specialty, practice name, address, phone number, and website URL to ICAmail@ichelp.org giving your permission to be included in the ICA Healthcare Provider Registry.
Physical Therapist – Portland, OR
Physical Therapist – Vancouver, WA
Physical Therapist – Centennial, CO
Urogynecologist – Moultrie, GA
Gynecologist – Jensen Beach, FL
IC & Chronic Pain Events
Do you run an IC support group? If so, please share your information with us so we can post it on the ICA Support Group page. Please email your information to icamail@ichelp.org.
Don't Miss the Next Issue of the ICA Update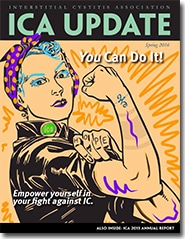 Here's a sneak peek at the cover for the Spring 2016 issue of the ICA Update that will be mailing in the next few weeks. If you haven't already done so, make a donation commitment of $50 or more by April 3, to receive your personal copy. If it's easier for you to make your donation over time, be an angel and consider making a monthly gift now of $10, $20, or $30 or more and be guaranteed to receive the next award winning ICA Update.
By making a regular monthly donation, you'll obtain your halo and join others in ICA's Angel Society. Consider saving a few dollars by making your favorite specialty drink at home, renting a movie rather than going to see one, or fixing yourself a nice dinner at home rather than eating out and redirect those savings each month to ICA. Every gift matters and the convenience of monthly giving multiplies your impact for so many. Your credit card will be charged the amount you designate on the same date each month. Your once-a-month generosity will work every day to ensure early diagnosis and optimal care with dignity for people affected by IC.
ICA Quick Tip: