ICA at the 2016 American Urological Association (AUA) Annual Meeting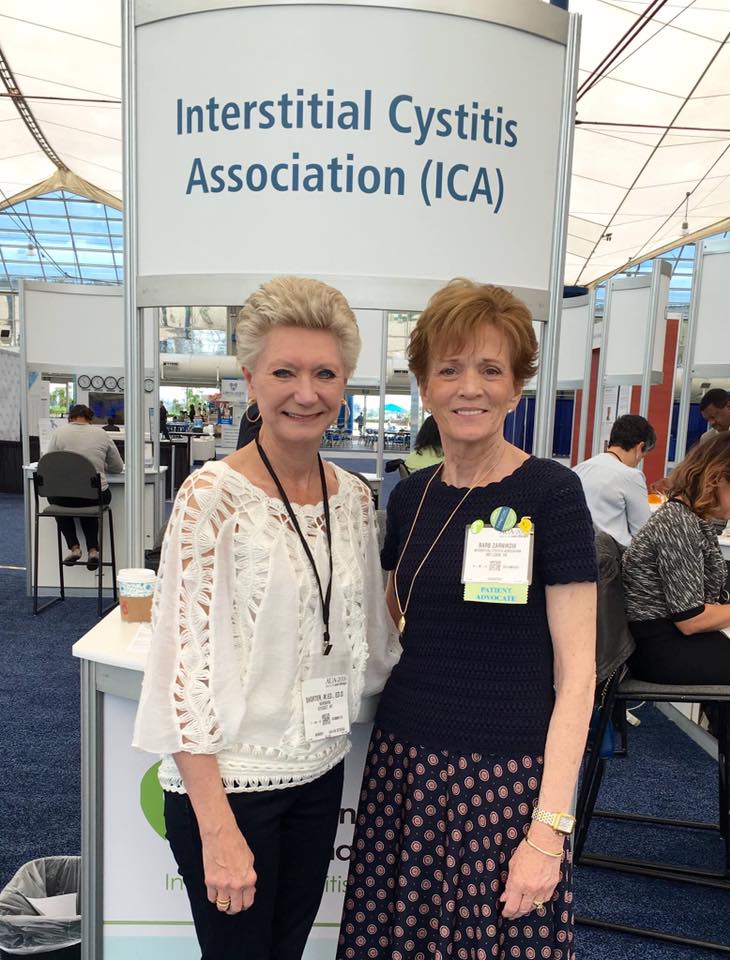 One of the many things your donations support is IC awareness and education of healthcare providers to help ensure early diagnosis and optimal care for IC patients. That includes ICA's representation at the AUA Annual Meeting, an event that draws the largest gathering of thousands of urologists from around the world. The meeting provides attendees with nearly a week of urology education, cutting-edge research findings, a view of the latest in medical technology and treatment options, and gives them the opportunity to connect with colleagues old and new.
ICA was positioned within the AUA's Patient Advocacy Hub which gave ICA Board Co-Chair Barb Zarnikow and ICA Executive Director Lee Claassen the opportunity to meet and speak with numerous attendees, and provide them with information about IC and ICA. While we saw many familiar faces, including other members of the ICA Board and ICA President Emeritus Dr. Vicki Ratner, we made numerous new connections with urologists from across the globe. It's very apparent that they share IC patients' need for new breakthroughs in research and more effective options in their treatment arsenal.
One of the educational highlights of the meeting was a panel discussion by four MAPP researchers who discussed their findings and the implications for urologists and their patients. (MAPP (Multidisciplinary Approach to the Study of Chronic Pelvic Pain) is a 10-year study of the National Institute of Diabetes and Digestive and Kidney Diseases (NIDDK). MAPP is shedding new light on chronic pelvic pain disorders and the comorbid conditions that many also suffer with, including IBS, fibromyalgia, and chronic fatigue syndrome.) The panel was moderated by Dr. Robert Moldwin, ICA Board and Medical Advisory Board Member, and Co-Chair of the MAPP Steering Committee. Research to-date in the microbiome, biomarkers, and neuroimaging were presented. An analysis of the first five years of MAPP data collected is indicating how clinical care may be changed and the direction of future research studies that will ultimately result in better patient care.
ICA also hosted a meet-and-greet reception for members of the ICA Board, Medical Advisory Board, MAPP researchers, ICA Pilot Research grant recipients, representatives of international IC organizations, ICA Corporate Partners, and donors in the area. This informal gathering of over 60 individuals gave ICA the opportunity to thank, connect, and re-connect with many individuals whose life work is to improve IC patients' lives and who help make ICA's work possible.
On behalf of all the IC patients who will ultimately benefit from ICA's IC education and awareness activities, thank you for your donations that made ICA's participation in AUA 2016 possible.