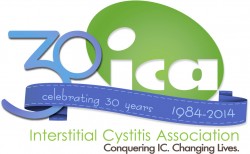 "We are not just sufferers, we are survivors trying to live day-by-day with hope that someday more can be done to help us."
Make a gift of $30 or more on or before Thursday, July 30 to celebrate 30 years of ICA and help ICA reach its goal of 300 donations by October 1.
ICA has worked tirelessly for 30 years to ensure early diagnosis and optimal care with dignity for the more than 12 million men, women, and children suffering with IC. But only with YOUR help can ICA continue to provide the information and patient support that has been relied upon for so many years. Please make your gift to the 30-30-30 Campaign.
ICA is grateful for your support!