ICA 2021 Virtual Awareness Walk Success!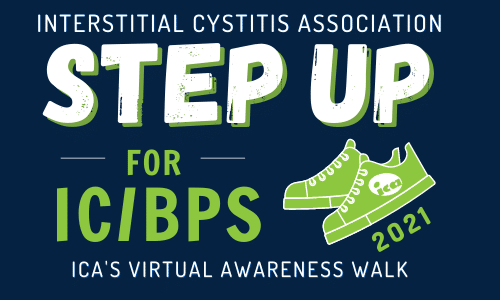 ICA is excited to announce the success of our 2021 Virtual Step Up for IC/BPS – ICA Awareness Walk that took place online, everywhere! A special thanks to the Toth Family and SPX Corporation for matching individual donations up to $5,000 each to triple the impact!
Almost 200 passionate participants comprised of IC/BPS patients, their families and friends, healthcare providers, and volunteers joined the event and cumulatively walked 2,047,024 steps, and raised over $28,000 for more IC/BPS awareness, better treatments, and an eventual cure for IC.
Many thanks to the key players who helped make the 2021 Virtual Walk a success:
Experts who provided educational content
Desert Harvest – Platinum Sponsor
Prelief – Platinum Sponsor
West Coast Mint – Bronze Sponsor
…and of course, all of our individual and team fundraisers! We were able to raise awareness for IC/BPS and the IC/BPS community with your support, dedication, and participation!
And finally, thanks to Desert Harvest, IC Relief, PelvicSanity, and West Coast Mint for donating recognition awards!
We are so grateful to all the donors and sponsors who contributed funds to the program, as well as the volunteers who gave their time! It's not too late to support the Step Up for IC/BPS Walk program. Help ICA step up by donating to the program today to bring awareness and educational events to more communities and online!
Congratulations and thank you to our top fundraisers, top awareness raisers, and step leaders!