IC Advocates on Capitol Hill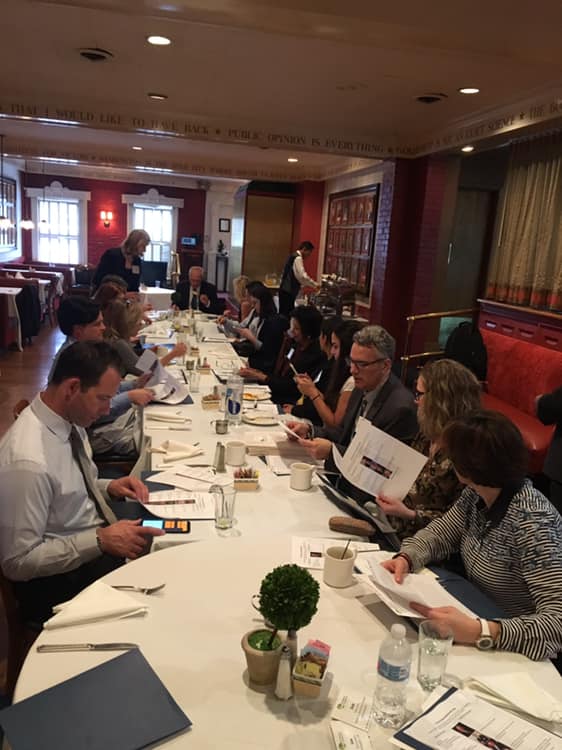 On April 9, 2019, ICA board members, staff, and volunteers went to Capitol Hill to advocate on behalf of all IC patients. We had 22 advocates meet with staff at 23 congressional offices. We also dropped information at an additional 8 offices.
FY 2020 Funding Priorities
Please provide $1,100,000 for the IC Education and Awareness Program at the Centers for
Disease Control and Prevention's (CDC). This program promotes public awareness of IC
through education for health care providers and the general public. As a diagnosis of exclusion,
physicians must be aware of IC in order for patients to receive timely and accurate diagnoses and
this program maintains a significant focus on information sharing among stakeholders, with the
aim to increase awareness, diagnosis, and proper treatment.
Please provide the National Institutes of Health (NIH) with at least $41.6 billion in FY
2020. The cause of IC is unknown, there are no definitive diagnostic tools available to clinicians,
and there is no cure for IC. The National Institute of Diabetes, and Digestive, and Kidney
Diseases (NIDDK) leads the NIH research portfolio with groundbreaking studies like the
Multidisciplinary Approach to the Study of Chronic Pelvic Pain (MAPP) Research Network
which takes a whole-body approach to studying IC as well as epidemiology research.
Please continue to include "interstitial cystitis" as conditions eligible for study through the
Department of Defense Peer-Reviewed Medical Research Program (PRMRP) for FY 2020.
IC is becoming increasingly prevalent among veterans and is associated with post-traumatic
stress disorder. Congress has historically included IC in the list of eligible conditions for research
under this program and IC researchers compete successfully each year.
2019 Policy Priorities
Maintain access to chronic pain care medication and protect the patient/doctor relationship with
regards to prescriptions. Chronic pain patients depend on important medications to cope with their pain
and ICA supports the National Pain Strategy (NPS).
The vast majority of IC patients often suffer major and multiple quality of life issues due to this
condition. Many IC patients are unable to work full time because pain affects their mobility, sleep,
cognition, and mood. These are people that simply want to lead productive lives, and need pain
medication to do so. Due to the fact that IC is categorized as a non-cancer pain condition, IC patients
already have a difficult time obtaining pain meds. IC doctors do not have time nor the inclination to
effectively prescribe or monitor the distribution of the opioid class of medication. They often refer their
patients to Pain Management Specialists, many who have never heard of IC, who often refuse to treat
them. In addition, antidepressants and benzodiazepines are often used to treat both mood and sleeping
disorders for IC patients.
ICA fully supports educating providers with the full spectrum of pain management regarding
effective treatment for all patients. We understand the current epidemic with prescription misuse, abuse
and overdoses, however we represent patients who rely on responsible use to live a normal life.. Pain
management is wide reaching and does not only include prescribing health providers but also physical
therapists who assist patients working on their pelvic floor to alleviate and manage pain. These practices
can lead to a patient moving away from prescription usage while maintaining the same quality and
results of care.
Even if you weren't able to participate last week, you can still advocate for IC: www.ichelp.org/advocacy-for-those-affected-by-interstitial-cystitis