EMPOWERING THE IC/BPS COMMUNITY:IC/BPS SYMPOSIUM AND ICA AWARENESS WALK SUCCESS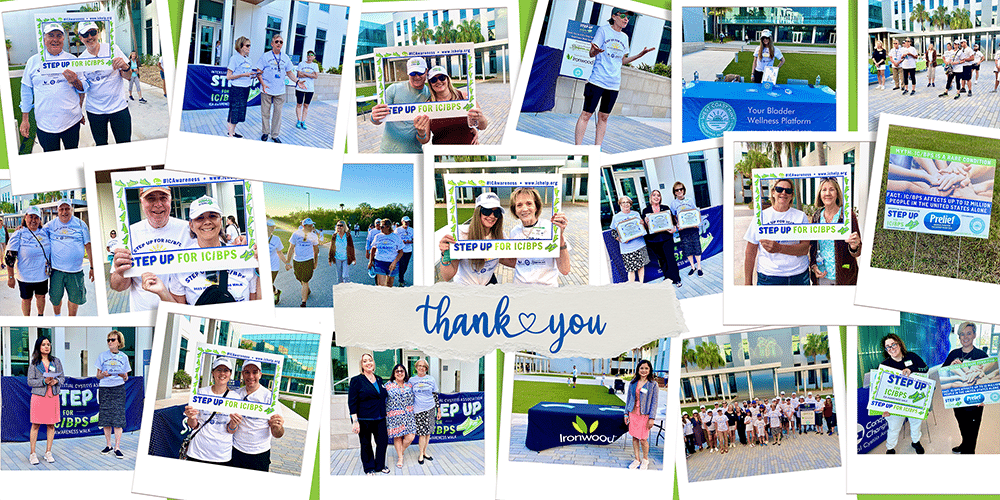 March 11, 2023, Clearwater, FL – The ICA Step Up for IC/BPS Awareness Walk and IC/BPS Symposium for people living with interstitial cystitis/bladder pain syndrome (IC/BPS) was a resounding success. The event was organized by Dr. Theoharis Theoharides, Nova Southeastern University, and the Interstitial Cystitis Association (ICA).
The event started with the IC/BPS Symposium, where renowned physicians and researchers in the field of IC/BPS shared their knowledge and expertise with the attendees. Dr. Kristene Whitmore provided information on ways to work with your medical team and questions to ask your providers. Dr. Robert Evans talked about where he started in the field of IC/BPS and how the ICA supported him with a Pilot Research Grant. Dr. Robert Moldwin gave a comprehensive overview of IC/BPS and the role of diet in the treatment of IC/BPS. Lastly, Dr. Theoharis Theoharides discussed comorbidities and neuroinflammation.
The informative session with the speakers was very interactive, and the attendees (in-person and virtual) had the opportunity to ask questions and share their experiences with IC/BPS. The speakers provided invaluable insights to the attendees, and everyone left with a greater understanding of IC/BPS.
The ICA Awareness Walk followed the symposium, where participants walked a mile to raise awareness for IC/BPS. The walk was led by the top fundraisers of the event; Amber Carter, Linda Salin, and Barb Zarnikow, who together raised nearly $3,000 for the ICA. Their dedication and passion for raising awareness and funds for IC/BPS is truly inspiring.
We would also like to express our deepest appreciation and gratitude to all of our corporate sponsors for their valuable contributions to the ICA Awareness Walk. Their sponsorship has enabled us to reach a wider audience and make a significant difference in the lives of those affected by IC/BPS.
Presenting Sponsor: Algonot
Platinum Sponsor: Ironwood
Gold Sponsor: West Coast Mint
Silver Sponsors: Prelief and Carzato
The ICA Walk and IC/BPS Symposium were empowering events that raised awareness, funds, and education for the condition. We are grateful to all of our fundraisers, speakers, and sponsors for their dedication and commitment to the cause.
We look forward to organizing more events like these that bring people living with IC/BPS together. Your support can make this happen, please consider making a donation to the ICA today!