Celebrate ICA's 30th Anniversary Now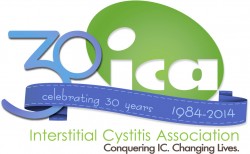 "ICA's patient support saved my life. They gave me hope."
Through ICA's support services, IC patients and their loved ones – perhaps even you – discover they are not alone in their struggle, are provided life-saving information, and find hope. Only with YOUR generosity can ICA continue to provide this support and information that is relied upon by so many.
Join us in celebrating 30 years of ICA by considering a gift of $30 or more on or before September 30 to sustain ICA's patient support services. Our goal is 300 donations by October 1 and to date we've received 154. Only with your help can we meet our goal.
Every donation matters – every gift counts – and every contribution delivers the gift of hope to so many.
ICA is grateful for your support!